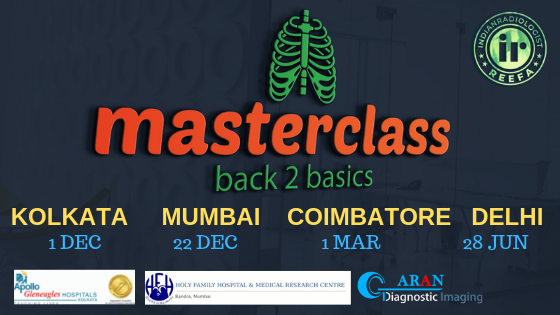 Conventional Radiology Lectures by leading experts in their field.
This conference is ideal for residents, those interested in conventional films like reading x-rays of the chest & bones, as well as practising Radiologists to brush up their conventional skills.
It is a one day event, on Sunday across 4 venues as follows:
Kolkata: Dec 1
Venue: Apollo Gleneagles Hospital Auditorium, Kolkata
Google Maps: https://g.page/apollo-hospitals-kolkata?share
Mumbai: Dec 22
Venue: Bandra Holy Family Hospital
Google Maps: https://goo.gl/maps/mjZ6zyqhhrTdmcat8
Coimbatore Mar 3
Venue: Hotel CAG Pride
Google Maps: https://g.page/CagCoimbatore?share
New Delhi June 28
Venue: TBA
Google Maps:
Salient Features
One Day CME Program
Includes Coffee Breaks & Lunch
Certificate of Attendance (soft copy)
Faculty for Conventional Radiology
Lectures, Discussions, Quiz & Exam Prep
Writing Material will be provided.
Email for Further Info: masterclass.b2b@gmail.com
FACULTY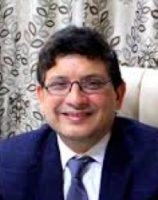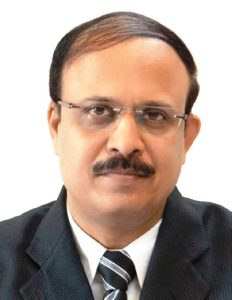 Dr Lalendra Upreti     Dr Sanjay Jain
CLICK TO REGISTER (Fill your City of Choice – Mumbai/ Kolkata/ Coimbatore/ New Delhi)
PROGRAM
| | | |
| --- | --- | --- |
| 08.00-09.00 | REGISTRATION & BREAKFAST | |
| | THE CHEST XRAY | |
| 09.00-09.30 AM | Chest X-Ray Introduction. How to read | ANBARASU A |
| 09.30-10.00 AM | Neonatal X-Ray | SANJAY JAIN |
| 10.00-10.30 AM | Signs in Chest Radiology: Recognition & Utility | LALENDRA UPRETI |
| 10.30-11.00 AM | The ICU Chest Radiograph | SANJAY JAIN |
| 11.00-11.30 AM | COFFEE BREAK/ SNACK | |
| | PROCEDURES IN CONVENTIONAL RADIOLOGY | |
| 11.30-12.00 PM | Barium Studies: Disease Patterns | LALENDRA UPRETI |
| 12.00-12.30 PM | Contrast Studies – the remaining stuff | ANBARASU A |
| 12.30-1 PM | HSG: A lost art or a Useful Tool | LALENDRA UPRETI |
| 1.00-1.30 PM | TBA | |
| 1.30-2.30 PM | LUNCH BREAK | |
| | BONES & ABDOMEN | |
| 2.30-3.00 PM | Spine X-Rays: How To Interpret | LALENDRA UPRETI |
| 3.00-3.30 PM | Bone Tumors | SANJAY JAIN |
| 3.30-4.00 PM | The Abdominal Radiograph | ANBARASU A |
| | | |
| 4.00-4.30 PM | COFFEE BREAK/ SNACK | |
| | | |
| 4.30-5.00 PM | EXAM SPOTTERS | |
| 5.00-5.30 PM | QUIZ | ANBARASU A |